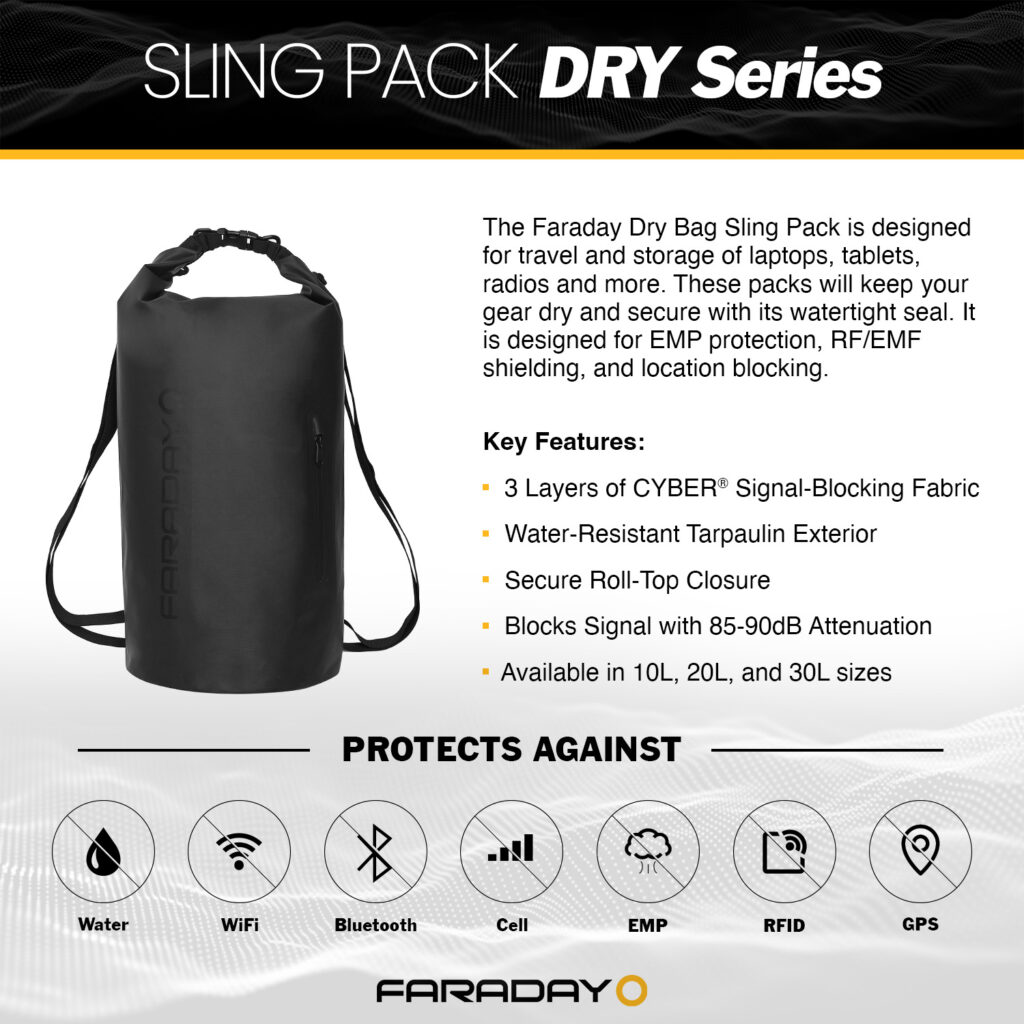 With the success of our popular Dry Bag Backpack in Stealth Black, we are introducing the Sling Pack. All the labeling is shaded black for added style and discretion.
This FARADAY Dry Bag Sling Pack is perfect for transporting or storing your sensitive, high-value electronics and keeping them secure from wireless signals and water. Your valuables will be kept dry, away from the grid, and protected from the damage an EMP would cause your gear. The Sling Pack comes in three convenient sizes: 10L, 20L, & 30L.  The roomy interiors fit laptops, tablets, radios and more. Lined with triple layers of CYBER NC, along with a tight roll closure, this bag provides 100% signal blocking protection and a water-tight seal. The resilient tarpaulin exterior is puncture resistant and water repelling. Strong, reinforced seams give this bag endurance and durability you can depend on. Two shoulder straps, multiple quick-release straps, and a water resistant exterior side pocket complete this minimalist design.
Interior Dimensions:
10L: 7.75″ x 7.75″ x 14.5″
20L: 9.75″ x 9.75″ x 16″
30L: 11″ x 11″ x 20″
❌BLOCK SIGNAL: Blocking Bluetooth, Wi-Fi, Cell Signals (incl. 5G networks), GPS, and RFID, this bag keeps you secure.
❌ENTERPRISE GRADE: Designed for military, police departments, forensic investigators, government and executive travel, personal data security, signal isolation, EMF reduction, and EMP protection.
❌CYBER BLOCKING: With triple layers of specialized metal-plated fabric containing nickel and copper shielding elements, this bag dissipates signals from both exterior and interior sources. It effectively blocks communication of signals to and from your device with 85-90dB attenuation. The secure bag is sealed off with a double roll and clip closure.
Dual-Clip Closure
Roll-Top Closure
Zip Side Pocket
Tarpaulin Exterior
Triple-Layer Faraday CYBER NC Fabric
Water-Resistant Construction
2 Shoulder Straps